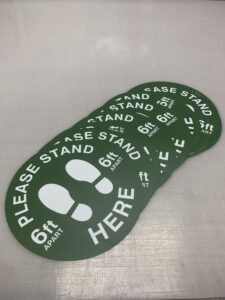 Acerbo's of South Jersey offers custom decals and stickers – for personal, recreational, business and office use. We can create any style or size decal or sticker you need, including basic roll labels, car stickers, equipment identification decals, fire department patch decals and nearly any other application.
We design durable and long-lasting decals, labels, and stickers that easily attach to a variety of surfaces – windows, walls, floors, vehicles, packaging and more. Our precision printing technique makes your decals bold and vibrant, reflecting the ideal design for your needs.
Our printed stickers, labels and decals are easily applied and removed, so you can update easily with new messaging as often as needed. Choose from our variety of removable, regular, and high tack adhesive options, with or without lamination. It's up to you…choose the durability and style that suits your needs and budget!
Reach out to us today to find out more about our decal and sticker services, including:
Wall Decals. Would removable paint be suitable for your current home or office? Would you like to display motivational quotes or graphics without the paint and cleanup? Vinyl wall decals are the answer for you!
Acerbo's can cut vinyl that you can apply to any wall or surface, and enhance the room with minimal effort. We can use any color material or printed photos. Just peel and place…no drop cloths, dirty paint tools, or cleanup required. It's a cheap and easy way to temporarily…or permanently…decorate your home or office walls!
Custom Decals. Want to turn a photo or graphic you love into a decal for your car, laptop, or other surface? We have the software and machines to turn your image into something you can stick on anything! Whether you're looking for bumper stickers, car window decals, stick-on business logos, and much more, we can customize your decals with unlimited colors, sizes and shapes.
Want to promote a local sports team? Acerbo's can print and cut your team's logo or slogan, and help you distribute it to family, friends and team members…including decals with your or your child's name and number!
Reach out to us today to find out more and order your beautiful personalized graphic decals.
Window Decals and Lettering. Want to turn your large office window into temporary advertising space? Leave it to Acerbo's! We can print, cut and install window decals or the lettering of your choice…use a window perf for privacy, or turn your windows into message boards! We offer cling, reverse adhesives, and indoor/outdoor decals in the size and color that you need.
Contact us today to find out more about our top notch South Jersey decal and sticker services!