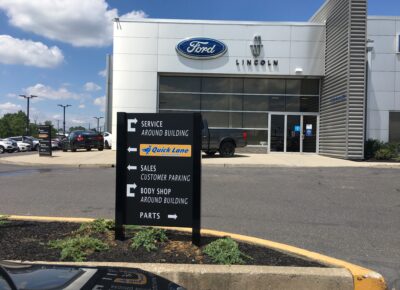 Acerbo's of South Jersey provides top notch, eye-catching custom signs and banners for personal, recreational, business and office use. Whether you want to celebrate a birthday with an indoor or outdoor banner/yard sign, or advertise your business at job sites or fundraising events, we are here to help!
So what's the difference between a banner and a sign? Read on…
What is a banner? A banner is a thick vinyl material that can be digitally printed on with any image, color, or text you would like. You have various types of thicknesses and hanging options to choose from. There are indoor fabric banners, flags, and outdoor weather proof banners that are durable for up to one year.
Our banners can be made from sizes small as one foot to over one hundred feet. We use the highest quality images for clarity, and can include grommets, ropes, and installation!
What is a sign? A sign is a rigid panel onto which we can either apply digitally printed graphics, or have carved and painted. The most common applications for signs we design include (but are not limited to) commercial site signs or storefronts, directions or information, personal property warnings, or simple temporary real estate or yard signs.
Your sign design includes temporary or permanent installation, within your deadline. We can custom create aluminum, wood, plastic and lighted signs, in a large variety of sizes and colors with custom graphics.
Reach out to Acerbo's today for any and all of your banner and sign needs, including:
Banners. Acerbo's can create the customized banner you need for just about any purpose or occasion. We can create your banners in a wide variety of colors, temporary or long term, and for indoor or outdoor use. Your banners can be single or double-sided, and can be from one to over 100 feet long!
Send us your finished design, or let us handle the design and formatting with the images you prefer. We'll evaluate the cost for you based on the artwork, design hours, sizes and material quality. We'll ship your banners where you need them and when you need them!
Building Signs. A high-visibility sign makes it easy for your customers to find your facility, and know where they need to go next, whether inside or out.
Let Acerbo's help you stand out from your competition and establish a sleek, professional image, with our high quality building signs. We can incorporate your logo, company colors and graphics into building signs that beautifully match your message and brand identity to the surroundings.
Regulatory Signs. If you're seeking bright, clear regulatory sings to keep people informed and safe, reach out to Acerbo's for your design. We work with multiple townships providing signs for schools, businesses, construction zones, public areas, and more. Our regulatory signs make visitors easily aware of crosswalks, danger zones, parking spots, entrances/exits, and much more.
We offer a wide range of traffic control, safety, and ADA-compliant signs, with the brightness and bold look necessary to advise people on laws, regulations and requirements.
Directional Signs. In your business, or at your event, the last thing you want is for visitors to be confused about where to go. We can create customized directional signs for any indoor or outdoor location. Whether you need temporary parking signs for a fundraiser or event, or permanent sings for your building, we can provide you with the material and products you need to make life easy for visitors. Click here to see some of our samples!
Yard Signs. Use one of our bright and bold yard signs to get your company name and logo in front of your prospective customers. Or use a colorful yard sign to point the way to new real estate developments, promote events and specials, or identify your work on a property. We offer both standard and custom size yard signs that help you deliver your message quickly and at an affordable price.
Exhibition Displays. When you need to design your display at a trade show or festival, you need to stand out from everyone else. Check out our catalog to see a full selection of display products we provide at a price within your budget. We offer fully customized displays, in any size, shape and format.
To order, please "Request a Quote" with the 1) Page Number in the catalog, 2) Item Number, 3) Description and Size, 4) Attached Artwork or Information on Design Needed
Click here to download the catalog and get started!
Contact us today to find out more about how we can design a colorful and eye-catching sign or banner for your next occasion!
---