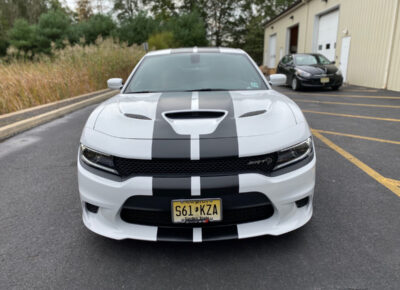 Acerbo's provides South Jersey custom vehicle wraps and graphics, in ways that gets your logo on the road and gets seen by thousands of drivers. Our options for your vehicle wrap are endless…including elegant pinstripes, two tone wraps, and rally stripe kits for muscle cars. Want to change your vehicle's color? We can do that too. Acerbo's completes our work in a clean, climate-controlled garage, with professional installers and top notch equipment.
We offer many services to help your vehicle express more of who you are, including:
Pinstripes. We service a wide variety of local auto dealerships and other businesses with our standard pinstriping packages. Typically, these include a two-tone stripe along both sides of the vehicle. We can include manufacturer and custom logos cut into the stripe, or add the drivers' or passengers' initials to your vehicle.
Side And Rally Stripe Kits. Want to go to the next level from pinstripes? We can design, produce and install full rally (or racing) stripe kits on your new or used vehicle. Imagine the new look of your Dodge Challenger or Charger, Chevrolet Camaro or Ford Mustang…those are our more popular choices for racing graphics!
In addition to rally stripes, we can create 100% custom graphics to your liking and give your car a style all your own. We've done this on vehicles for sale at dealerships, but we can customize your own car too…choose your own color scheme, stripe thickness and much more. We'll work with you from concept to completion to design the color scheme of your dreams on your car.
Color Change Wraps. Whether you want to change the color of parts, or the color of your entire vehicle, machine, cart or motorcycle, we have the experience and tools to get it done. Acerbo's can completely change the look of your vehicle, without damaging it or disrupting the factory paint job. Choose from our wide variety of colors, finishes and styles, and let us create the perfect wraps for your hood, roof, spoiler, or your entire car.
Accessories and Tint. To go along with your graphic vehicle customization, we offer various vehicle accessories from a wide catalog (link to catalog here), including body side moldings, wheel moldings, bug shields, floor mats and much more. Interested in window tinting? Let Acerbo's handle your tinting and be your one-stop customization shop.
Reach out to us today to find out more about how we can transform your vehicle and turn it into a statement, for you or for your business!