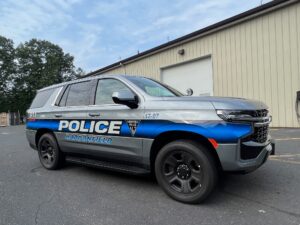 Acerbo's provides municipal vehicle wraps and emergency vehicle lettering for departments throughout Burlington and Camden Counties in South Jersey. We understand that these vehicles are purchased to last a long time, so we make sure the graphics and lettering will last too. Regardless of manufacturer warranties, we stand by our work and assist our clients in any way we can.
We use 3M materials printed with solvent ink, and laminated for UV protection. Our graphics meet NFPA guidelines as needed, and include printed or diamond grade chevrons, reflective vinyl, door decals, and vehicle rebranding.
Our vehicle lettering services for municipalities include:
Police, Fire & EMS. Acerbo's is a leader of emergency services graphics in Burlington and Camden Counties. We can replicate your existing graphics, or create a new and modernized appearance. With each make and model vehicle, we record the measurements for consistency.
We can also handle your graphic removal services, including repurposing fire and police vehicles or other needs. Whether your department wants a community outreach vehicle for local events, or stealth detective graphics that require a type of light, we can customize your fleet as needed.
Departments throughout the area recommend our professionals for their graphic needs. Your image in the community is important to us, and we work to ensure top quality branding and quick turnaround times for your vehicles.
Have a look at our gallery today to view the vehicles we've serviced, including full-sized fire trucks, police interceptors, trailer wraps and more.
Public Works, Town Offices & Municipal Utilities. Acerbo's works with local municipalities throughout the area to provide cost effective solutions for vehicle branding. We understand the value of concise and consistent graphics on municipal vehicles, while helping towns maintain a taxpayer-friendly budget.
Whether your municipality needs reflective DoT striping and township branding, you need an important message displayed on municipal vehicles, or other branding needs, our professional team will provide you with the graphics you need at an affordable cost.
Let us be another tool for you and your community, to create an easy and consistent lettering program for your fleet.
Reach out to Acerbo's today to find out more about our Emergency and Municipal Vehicle Branding, and how we can brand your vehicles to suit your community's needs and budget.
---